That's the look I had on my face when the call came in to tell me that my kids were now home from school for five weeks.
I was planning on chatting with you about making moments in this busy world of ours and now it is a changing world where some serious moment making is in order. I am fascinated with the virus adventure that is going on right now and the changes to daily routines and lives that occur every time I turn my back. In our particular corner of the world, our school kids are off for five weeks now. Did I mention that yet?
Holy cow!
Just when I thought my kiddos would finally be in school long enough for me to accomplish my to-do items!
Change has always energized me and watching people adapt to this is amazing. Periodically I check in online to see what is going on, and noticed that this is a very sensitive topic. Perspectives are different because we are all different and everyone has a different interaction with the virus and its effect on their own lives.
No matter what our perspective is, we need to adapt to change and quickly.
I've been formulating Plan B, C and D now that the apple cart has been turned upside down, knowing that those plans may get all topsy-turvy overnight with new virus developments and requirements for more change. Having children, I am aware that my perspective will color theirs, so how do I want them to view this moment in history? What are the lessons that I want them to take away from this?
Beyond the heaviness, uncertainty and possible scariness that they may be feeling in this moment that I need to help them navigate, there is room for making moments that matter. I share my ideas based on my small perspective, knowing that each of you, my BFF's, is affected differently by this experience. My prayers are for you as you deal with the changes, struggles, sadness, loss, love, kindness and strength that may come your way.
For me, I found out last Saturday, (as in three days ago), while I was cleaning up our yard from the ice storm a month or so ago that left tree limbs littered in every direction, that instead of being home for one extra day for our school staff to do some virus planning, my kids were now home for the next five weeks. Starting immediately.
Yikes.
Did I really hear those dates right in that prerecorded phone call? That new development puts a kink in my current plans. I was already on a time crunch with a project regarding our living arrangements. While trying to clean up my yard, I had already been interrupted numerous times, so my brain was pumping out possible solutions for spending five weeks together and accomplishing the necessary tasks. We expect to be together for a long time over summer school breaks so I change my expectations for those periods. This was unexpected. My personal nature is to kick it into high gear when my back is against the wall and start knocking away at the obstacles.
First up, was to look at the calendar to see what was on the horizon.
We are homebodies but at least we have the option to join in the world when we need a change of scenery. Now, we are being asked to keep our germs to ourselves and that seems like a reasonable request that we can honor. And since a head cold is in our house, we were already limiting our interactions. But sorting out what that required of us was interesting. We had plans for haircuts, but that seems unnecessary now, so I'll let my locks grow for a while longer and a "mom" haircut will be the plan for my wee ones. I have plenty of differently sized bowls…
Routine doctor appointments were rescheduled as a precaution. I have no interest in flirting with germs.
Online grocery ordering came back into existence for me but that experience has changed now. My medium-sized order was delivered in three small bags. Lots of things I had ordered were missing. There was no bread. No rolls. No buns. Luckily I had also ordered flour so I declared to my peeps that we just might be making our own bread. Great grandma would approve. One of my favorite expressions for my kids is that "there is always a solution, always an alternative". Since the shelves are bare, a fun solution could be to try a new food, more out of necessity, but it's all how you look at it. And the possibility that there will be no more food ever in the grocery store has me thinking that I would at least get to eat up the weird things in my pantry stock that have been overlooked for years. Chick peas with orange fig spread, lasagna noodles with baked beans and candy corn or potato latkes with Easy Cheese and BBQ sauce could be on the menu if that were ever to happen.
Not all solutions are pleasant.
The store shelves are also bare of toilet paper. That's a trickier item to conjure up as a homemade offering, but not impossible, so I tasked my kids to think of alternative solutions. Naturally, there are some fun parenting moments to this adventure, so I suggested using our socks. That suggestion brought the desired reaction, but also proved that there were some options, even if they were not desirable. I suspect my socks would have to be offered up first if it comes to that action. I'm still holding out for actual toilet paper replenishment.
I have mopped the floor and am halfway through cleaning small critter cages – tasks that I prefer to procrastinate on.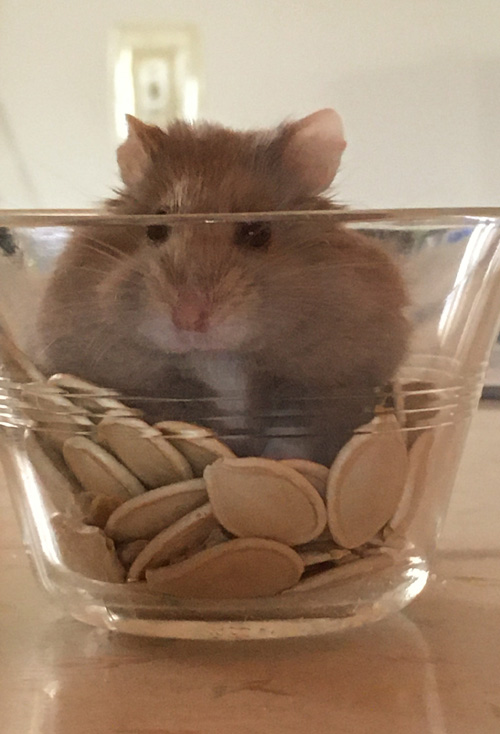 But since I am home for now, it was harder to come up with excuses. It's also a great time to go through closets and drawers, so I began that task myself. It's much easier to do mine than to work with my wee ones on theirs. Apparently tho, I have already worked on that before because the giant mound that came out of my drawer pretty much went back in, minus two shirts. It was not all that satisfying. And I have not dusted in quite some time. That became apparent when I went into my bedroom to turn off the lights that no one was using, because everyone knows that a room with lights on does not have monsters in it. I found my lamp to be in the middle of a major battle field.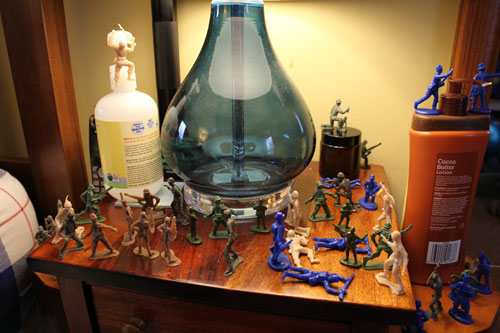 And it was dusty.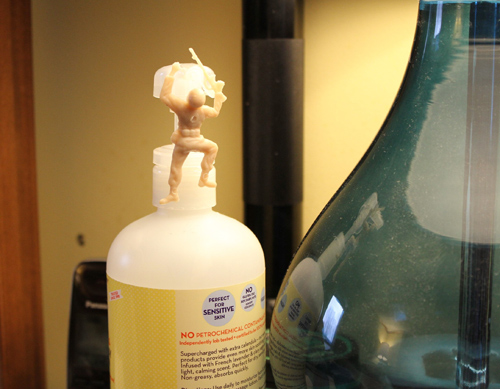 I decided to give the order to clean it up and see what happened. "Hey, as long as you're up there…!"
But these army people had bigger issues than my dusty lamp. They were under attack.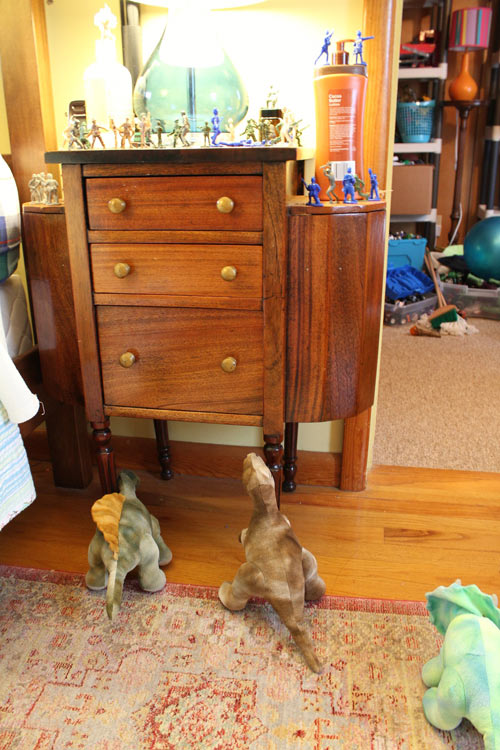 Maybe I could give my kids the order to clean my dusty lamp. Someone needs to take orders from me.
Mentally, I have not completely processed this new change to my days, so I have not stored up enough energy yet for some of my grand ideas. They will require me to be patient, loving and kind as a mom. For now, I have found that sneaking serving-sized spoonfuls of ice cream as I prep the kids' meals is a more effective way to be patient, loving and kind. It's only been a day and a half that they have been out of school on this new forced leave, so they are happy enough while I am still mentally adjusting and eating all the ice cream.
But, I have been listing out my "old-school" ways to have fun so that I am ready when the ice cream runs out. Can you say furniture tents? They are the best! Moving your furniture around so that a sheet or a blanket can rest on top and create a tent, a place to play under, is so much fun. The loving patient part comes into play for me because of the varied age ranges in my house. The youngest member always end up knocking the tent down because that's what youngest members do and then everyone is upset. I have at times, created a furniture tent for each child, so I am considering my options. For the ultimate fun, delivering spill-proof drinks and easy clean-up snacks to the tent gives bonus points.
One of our teachers suggested writing letters for folks in nursing homes who are now required to stay away from all of us germ-y folks. It allows the students to write and provides a social connection for both. That led me to think of our grandparents who also have to stay away from their germ-y family members so I suggested to my children that writing a good old-fashioned letter to them would be fun. I am also writing this adventure in my journal for "good times" reflection. We just may end up in the history books someday.
Being an old-school mom, my kids are burdened by my limitations on screen time. I save it for a treat or when I really need to keep them occupied to get something accomplished. Since we will need a treat once in a while and have to get it at home and since I have some moments of really needing to accomplish a few things, screen time is a natural option to consider. But, rather than just hand it out as a freebie, I had the brilliant idea to tie some of their screen time to doing tasks to earn it. I rolled out my new plan, and although it was met with less enthusiasm than just getting to play for free, it's had enough time to settle in their minds that they have accepted it. I reminded my oldest that, being an old-school mom, I wasn't really concerned with them needing to have screen time, so the alternative was that they just do the work because they should and that screen time was not actually required to fill in our five weeks together. See? There is always an alternative.
Baking. We love baking, so that will add happiness and activity to our days. (It also adds math and reading.) But that also means eating it. We love eating it, which is really only a consideration for me as I had just began to up my "get healthy" routine to recover from my winter-ness. Maybe I can throw in a dance party to wiggle away the butter points I accumulate.
There are plenty of moments for helping in our families and communities as it fits into our own new daily structure. Finding a way to give provides an opportunity to feel some control and purpose to uncertain days.
For us in our neck of the woods, it's just the beginning of what will surely prove to be an interesting change to our daily routine and a lot of "wait and see" for the coming months. May you find ways to make some moments that matter and may your ice cream stash keep you sane.